Creating a Facebook company page is easy. But to be successful with this is difficult. With our book tip you can start with your social media marketing right from the start.
The book "Go in! Fulfill your dream and become an entrepreneur. Facebook & Co make it possible for everyone. "by Gary Vaynerchuk (German book) describes step by step how you can do social media marketing without much financial effort to successfully promote your company.
Some remarks are a bit exaggerated and in our opinion should only serve motivation. But the book brings to the point: a lot of effort, time and perseverance are necessary to run successful social media marketing.
Gary Vaynerchuk made his family business a national leader years ago and describes in detail how he succeeded. It focuses on how to build a community, how and what you should communicate, and how to ultimately turn your passion into a lucrative business model.
The book is especially suitable for social media beginners who want to develop a new strategy for their company. But even advanced learners will not miss out on this reading. They learn what they are already doing correct or get incentives on how they can optimize their strategy.
Use the tips of Gary Vaynerchuck to succeed with your social media strategy. Start today!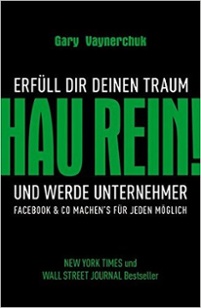 AdvantiDesign